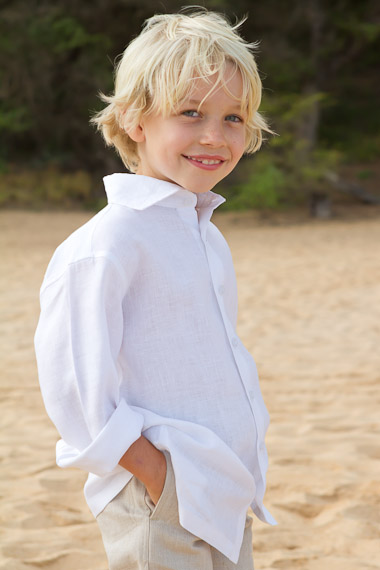 Island Importer's collection of boys' linen shirts offers the perfect combination of style and comfort. Our shirts are made of high-quality linen, which is both lightweight and breathable, ensuring that your child stays comfortable all day long. With a variety of styles and colors to choose from, you can find the perfect shirt to suit your child's taste. Our commitment to quality means that our shirts are not only stylish but also durable, so your child can wear them time and time again. Whether it's for a special occasion or casual wear, an Island Importer shirt is a must-have addition to any boy's wardrobe.
Stylish Comfort for Kids
Island Importer's boys' linen shirt collection features a wide variety of styles and colors, ranging from classic to trendy, ensuring that you find the perfect shirt for any occasion.
Cozy fit: Crafted from 100% linen fabric, our shirts offer a cozy fit that is both breathable and ideal for warmer climates, ensuring that you stay comfortable and stylish in any weather.
Trendy design: Island Importer presents classic and contemporary styles to keep up with the latest trends and fit any event.
Selection of Designs and Colors
Our boys' linen shirts are low maintenance, requiring minimal upkeep, making them an excellent choice for parents looking for hassle-free options. When you shop our range, you get to enjoy qualities such as:
Timeless colors: From timeless shades like white and ivory to bold hues such as navy, teal, and coral, our collection features a variety of colors to suit different preferences and occasions.
Vibrant colors: Express your personal style with our collection of vibrant colors, offering a wide range of options to make a statement with your wardrobe and add a pop of color to your outfit.
Different styles: Our collection features various styles, including button-ups, guayabera, and mandarin collar shirts, each showcasing unique details and characteristics.
Low Maintenance Care
Island Importer offers a seamless shopping experience for boys' linen shirts, with an easy-to-use website, secure payment options, and exceptional customer service. The maintenance routine you will have to follow will include:
Effortless cleaning: Our linen shirts are easy to clean with machine washable and tumble dry features, eliminating the need for dry cleaning and making maintenance a breeze.
Fast preparation: Thanks to their low-maintenance nature, our shirts are ready to wear in no time, providing a convenient option for busy individuals on the go.
Effortless Shopping Experience
Choose Island Importer for your boys' linen shirt needs, as we offer high-quality products, diverse style options, hassle-free maintenance, and a seamless shopping experience. You will get to enjoy:
Sales Promotions From Time to Time: Currently we have a FLAT 10 percent off promotion going on sitewide, which you can use to buy your boys' linen shirts before stocks run out!
Stress-Free Returns and Exchanges: We offer stress-free returns and exchanges on all our products, ensuring you can shop with confidence and peace of mind.
Why Go for Island Importer's Boys' Linen Shirts?
Redefine your boys' wardrobe with the stylish and comfortable boys' linen shirts from Island Importer. Our carefully designed collection features a wide variety of styles and colors, catering to different tastes and preferences, ensuring that your child looks and feels great for any occasion. With hassle-free maintenance and an easy-to-use website, shopping for your child's wardrobe has never been this seamless. Choose Island Importer for high-quality linen shirts that require minimal maintenance and enjoy exceptional customer service and secure payment options.
Premium Materials: Our shirts are made of premium 100% linen fabric, offering both comfort and style for a high-quality product that lasts, ensuring great value for your money.
Economical Prices: Island Importer offers budget-friendly prices and periodic sales promotions for our valued customers.
Outstanding Customer Support: Our dedicated customer support team is knowledgeable and responsive, ensuring that any questions or concerns are promptly and effectively addressed.
Variety and Style: With our vast collection of styles and colors of boys' linen shirts, you can easily find the perfect shirt for any occasion, catering to different tastes and preferences.
Give your child the gift of comfort and style and make your boys' linen shirts shopping experience a breeze with Island Importer!